San Gregorio Ranch and Art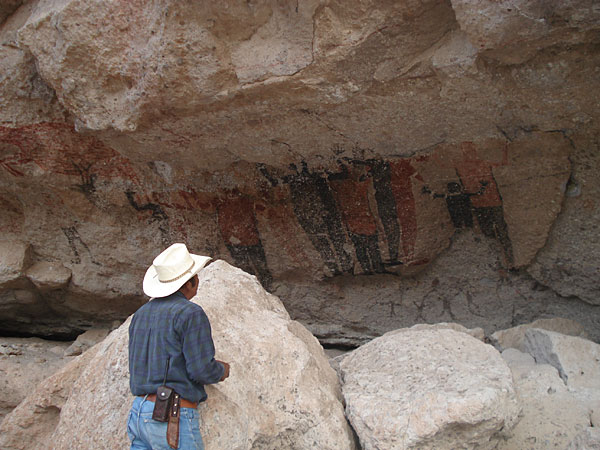 Highlights - World Heritage sites of prime Mural Rock Art. Cuevas - La Palma, El Borrego and Boca de San Casimiro among others. Cultural and Natural History taught by local guides as you travel the spectacular desert outback. Ranch visits. Plus a glimpse into the lifestyle of locals, and other Baja trail rhythms.
Overnight in the town of San Ignacio, the jumping-off point for the best of Baja's rock art sites.
As the trip draws near we can help with transportation arrangement info between Loreto and San Ignacio or the sierra viilage. For 2019, on most trips, we ask that you pack your own lunch and snack items. We have saddle bags for you as part of the trip gear, and will help you with good trail lunch ideas.
Day 1 -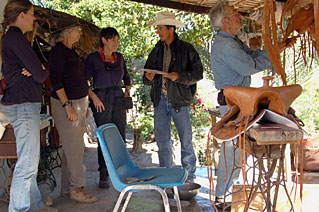 After breakfast on your own in town, we'll check in at the San Ignacio cultural center office, and then head to the Sierra San Francisco. It's about a two hour drive up to the small mountain village, jumping-off point for the best of Baja's rock art sites. Today we meet our local guides, mules and pack-burros and head up the trail for a great adventure. First camp destination involves about 2 hours on the trail, riding or hiking. It's a gorgeous route with views and cactus garden scenery. Camp on Mesa Soledad.
Day 2 - Three trail hours today, dropping into San Gregorio canyon, delivers us into a sweet garden camp across the arroyo from Rancho San Gregorio. Orange trees and date palms offer shade, and a small stream of running water refreshes in camp. This is a wonderful base for 2 to 3 nights as we explore the archeological sites and meet the families there. In the afternoon we may visit the sites called San Gregorio 1&2.
Day 3 - A layover day today (no packing of tents or gear) we can opt to ride or hike to 3 more of the sites famous in the area. In the evening there should be plenty of time to visit the neighbors, two Arce Arce families that live on the slope across the canyon, a short distance from our camp.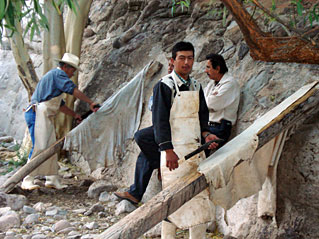 Day 4 - In the morning we can be in slow mode for breaking camp, get in some last minute visits to more art or the small schoolhouse that serves 5 of the lovely ranch children, or catch up on your journals over a cup of Chema's famous campfire coffee. By evening we will be back up on the mesa again, in place to have a short ride to the roadhead by mid day on the final day. (alternate is to spend another whole day and ride out 4 to 5 hours on Day 5)
Day 5 - Final trail day… after arriving in the village of San Francisco de la Sierra and back to our parked cars or taxi van, we say goodbye to guides and mules and arrive in San Ignacio by evening or overnight at the hostal buenaventura in San Francisco.
Buen Viaje and we'll hope to see you again in Baja!
Return to Horseback Riding and Pack Trips main page