Trudi Angell lives in Loreto, Baja, Mexico. Trudi was a graduate of one of the first National Outdoor Leadership School (NOLS), Baja courses in 1976, and subsequently worked for the school and kayaked the coast for the next 7 years. Just as adventure travel and Baja gained popularity, Trudi started the sea kayaking company, Paddling South.
Paddling South began running kayak tours in the early '80s when she settled into the small coastal town of Loreto. Expanding horizons, she discovered other natural treasures of the region while traveling by mule in the sierra. Trudi has developed an intimate knowledge about the people, area, history and roots of Baja.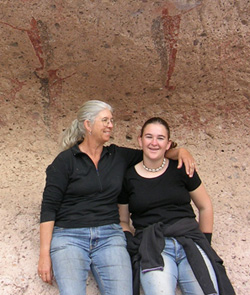 Trudi and her daughter Olivia in a painted cave in Baja.
As Trudi explored the intriguing mountain ranges and ranches she also developed Saddling South in order to offer tours and exploratories into very remote regions throughout the Baja peninsula.
Trudi, and her daughter, Olivia, completed the 5th leg of their Long-Ride from 2000 to 2009; traveling almost the length of Baja by mule! In 2013/14 a 108 day trek on mule-back was completed. Cabo to the border nearTecate - La Mula Mil - The Mule 1000 has made history!
Mexican Business - in 2015 Trudi sold her kayak booking agency Paddling South to Sea Trek of Sausalito, California.That allows her more time to ride and film on mountain trails!
Trudi and Olivia have dual citizenship. Olivia, age 29 in 2018, sometimes leads rides and kayak tours, sharing her own stories of growing up in a small Mexican town and graduating from the La Paz university with a degree in marine biology.