Welcome to Loreto, Baja California Sur!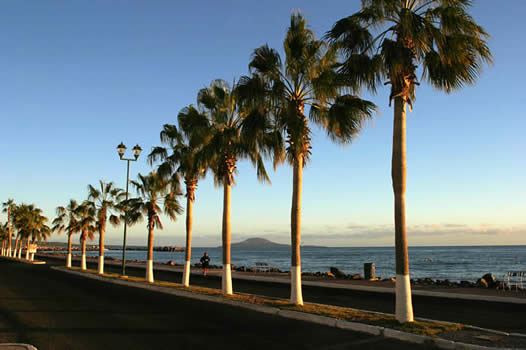 Our Loreto waterfront drive, with Isla Coronado in the distance. photo by John Bolivar
see Hotel information and Driving information at page bottom
Loreto is located 750 miles south of San Diego on the Lower California peninsula in Mexico. The peninsula is comprised of the 2 most northwestern states of Mexico- Baja California and Baja California Sur. Though Loreto is a more remote destination than other touristy areas in "Baja", we do have the service of an international airport. Driving is a great option for folks who have some time before and after the tours. Please see the additional info and travel links below for more information about flying, driving and busing into Loreto and Mexico.
For a flight to Loreto (LTO) direct from Los Angeles (LAX). Alaska Air (800 252-7522) has arrivals and departures several times each week. Periodically, according to seasonal traffic, they add more flights, allowing for travel to Loreto 5 or more days each week.
Here's a great link to information about the Tijuana airport border crossing bridge. see CBX
CalafiaAir also flies from Tijuana to Loreto, on Tues., Thurs. and Sun., at a cost of about $115 one way. It is easy to book transportation from San Diego airport, or downtown, direct to the four-star Tijuana Airport; or ride the San Diego trolley to the border, and then a taxi to the airport bridge border crossing (CBX - see link above) for a cost of about $25 total. ($15 dollars or so for the border crossing pass too)
Calafia Air also flies from la Paz to Loreto on Tuesdays Thursdays and Sundays mid day, for about $45 dollars one way....which can be very useful for folks flying in or out of Cabo to make a great connection. You might want to overnight in La Paz, a very nice waterfront city, and then the flight is just a half hour and flies over the gorgeous coastline up to Loreto. It is easy and very comfortable.
Calafiaair.com.mx has revised their web site and it works great for online booking now most of the time. If you need to speak with someone for help, call their US based phone number and they will give you a call back. Dial 1 (213 928-5692 during the hours of 10-2 and 4-8 M-F,mountain time, and 10-3 on Sat. not open on Sunday) The English speaking reservation desk folks will be happy to help you with information and flight arrangements.
Volaris flies from some US cities to La Paz or Cabo. From Tijuana, twice daily to La Paz, the cost is about $145 one way, and there is an AereoCalafia flight on Tues., Thurs or Sunday for as low as $45 US to connect up to Loreto. Fly to La Paz on a Saturday, enjoy the city, then up to Loreto on Sunday with plenty of time to meet for the Saddling South orientation meeting
Flying from other major hubs (Dallas,Houston,Denver, Phoenix, or Las Vegas) for flights into mainland Mexico (Hermosillo, Mexico City) and then to Loreto Thursdays and Sundays AereoCalafia; or from US hubs or Tijuana, direct to La Paz (LAP) or Los Cabos (San Jose del Cabo - SJD) - may be a great option for folks coming from the eastern and southwestern US.
EcoBajaTours mini vans are easy to connect at the San Jose del Cabo international airport for a 2-3 hour transfer up to La Paz city or La Paz airport.
It's easier than you think ! Contact us for more info. With a little leeway on each end of your adventure, consider these Good Alternatives for travel to Loreto - Fly to La Paz (LAP), Baja California Sur, and drive or bus 5 hours north, or fly up on Aereo Calafia. Fly to Los Cabos (SJD) and drive or bus up (8 hours driving time); fly to Loreto from Hermosillo or La Paz on CalafiaAir.
And, if you have the time - drive from San Diego south, about 500 (San Ignacio)- 750 miles (Loreto), and enjoy the many desert ecosystems along the way.
Loreto is the best choice for adventure travelers. More remote than other popular tourist destinations, we have the advantage of wonderful pristine wilderness close at hand.
¡ Loreto, It's Worth It ! It's Worth It !
CLICK HERE for more information about getting to Loreto by Car or Bus.
CLICK HERE for a list of Hotels in Loreto.