San Javier and Ranches

From Loreto, - After breakfast and checkout from your hotel, we'll head for the hills to our trail head. In less than an hour we'll be meeting the mounts and our local guides... then, ride off to discover the back roads and trails into Baja's hidden oases. You'll be surprised to see ponds, creeks and springs tucked away in steep-sided canyons. Ranching friends have led us to wonderful pools in the desert on centuries old routes their ancestors have used for travel in the rugged mountains; we'll take you to a few of these local treasures on our favorite springtime cultural ride.
As we ride between the ridges of the sierra we'll visit remote old historic sites and some working ranches in the outback where folks still weave horsehair ropes and tan hides in the old-style methods. During citrus season we ride away from local orchards with saddlebags stuffed with oranges; and on visits with the señoras of the sierras we often share meals of homemade tamales, tortillas, and the famous Baja machaca tacos we can later tuck away as "trail food". Guests rate this trip as one of the best ever for a true taste of Baja.
We ride through the quaint village of San Javier to visit its famous Jesuit-built mission from the 18th century. Beautiful gardens and the spectacular historic monument, the best preserved on El Camino Real, grace the single cobbled street of town.
This information compliments the Ranch Culture / Ranch Gardens and Day Trips info on our web site.... all together you'll find the mountain ranches and people of our beautiful desert peninsula to be a garden of hospitality and lovely Old California slifestyle. Come join us for a ride back in time!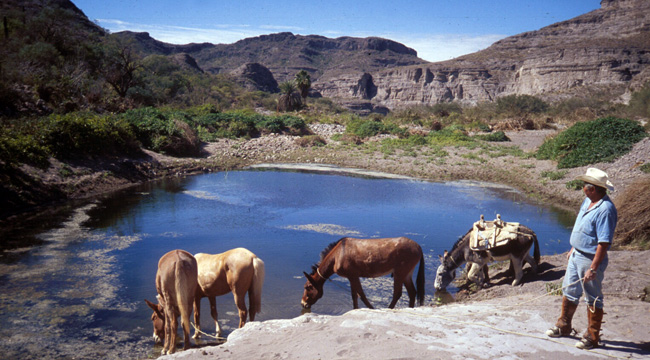 Return to Horseback Riding and Pack Trips main page