Agua Verde Coastal Route
Day 1 – After breakfast, we'll meet you at your hotel and load our bags into vehicles and travel about 2½ hours south of Loreto to a trail head and small fishing village of Agua Verde. Here we will meet our mounts and trail guides and ride 3 hours in the afternoon to our camp destination, Rancho Santa Martha, tucked into a shady grove on a beautiful bay. D included.
Days 2 - 3 After a visit with the folks at the nearby ranch in the morning, we turn inland to follow a winding arroyo, a trail long-used by locals to transport goods by burro between ranches. The incredible highlights of this route are the rewarding desert / coast views we enjoy daily. Base camp at Santa Martha coastal ranch for 3 nights is great for swimming or hanging out in a hammock, with its date-palm grove a welcome oasis with a few extra amenities.
A spectacular ride from the first day onward: We travel through remote arroyos filled with Sonoran Desert Old Growth plants, over ridges with gorgeous views and along reef-strewn beaches. This is the one pack-trip ride that warrants bringing a bathing suit and snorkel gear! Camp on the beach under starry skies, or beneath the swaying fronds of the palm grove. B, D included on trail days.
Day 4 We'll wind back north back over the pass, and into the Agua Verde basin. Early dinner on the beach at a small fish taco restaurant with a view of the turquoise port, or with our guides' family on our way out back to Loreto.
(an alternate plan, depending on group size and particular trip logistic,s might be to spend one of the nights in Agua Verde, or in a remote canyon south of the ranch base camp)
Since 2018 we have requested that guests BYO-L (Lunches) We provide you with a saddle bag to carry your favorite snack lunches while on the trail. We also provide a list of suggested typical items that the cowboys usually carry, like burritos de machaca, empanadas, fruit, cheese, tortillas, etc... and a list of where to buy snack items in Loreto so you don't need to pack lunches into your luggage. As always, if you have special diet requirements let us know and you may need to bring diet-specific items with you from home. Breakfasts and dinners included when at camp.
Just How Beautiful Is It? This Beautiful!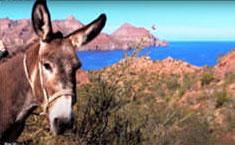 Return to Horseback Riding and Pack Trips main page