Cueva Serpiente & More - area of Santa Martha / Sierra San Francisco
Highlights - Cueva Serpiente, El Corralito, Super Nova, Mono Alto, el Palmarito, Ranchos and History.
The itinerary below describes a 4 or 5 day tour.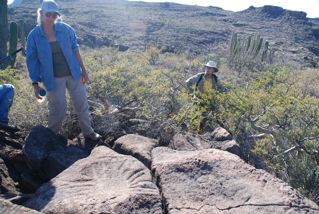 Overnight in the town of San Ignacio, jumping-off point for the best of Baja's rock art sites.
Day 1 - Meet at designated place in San Ignacio and we will caravan out to the Ranchería of Santa Martha. (alternately we may decide to camp out at a friend's ranch the night prior in order to get an early start on the trail). Sign-in to the guestbook and meet the mules and guides and we'll get on the trail, overnight on a ridge with great views to the 3 Virgenes Volcano.
Day 2 - Arrive at camp mid day. Over rugged ridges and in a remote section of Arroyo Parral, Cueva El Serpiente lies in the canyon bottom and boasts one of the most enigmatic mural paintings, a 18-foot-long serpent with deer horns. Many other animated paintings surround the main art, yet there is very little over-painting on the main subject. It is truly a well-preserved site with a story to tell. Another little-known and seldom-viewed site lies about an hour and a half hike up a steep trail. Worth the hike, it has unique art including a distinctive shamn figure.
Day 3 - We ride down-canyon to view two of the sites mentioned in the book the Cave Paintings of Baja, Cueva Mono Alto, and Super-Nova. Easy access to these sites allows us to take a leisurley day and keep our camp in place.
Day 4 - Morning pack-up and we'll ride back out to the Santa Martha ranches, visit friends and relatives of our cowboy guides and either overnight at a friend's ranch or drive back to San Ignacio or other points down the highway.
Day 5 - Depending on the trip logistics, either ton the first day, or on this final trip day we will visit Cueva El Palmarito, a famous and easily accessible great mural site.
Return to Horseback Riding and Pack Trips main page