Amazing Views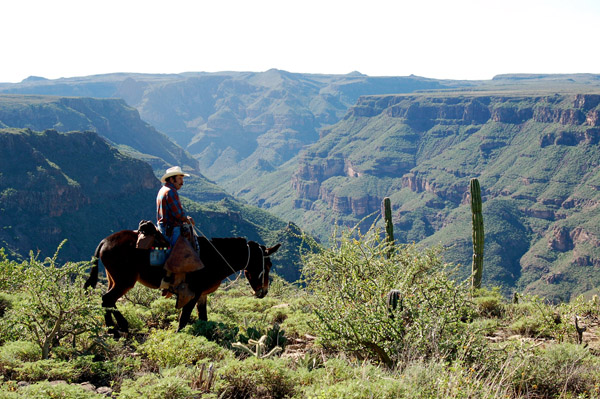 Amazing Views Sierra SF (for alumni mostly, or intermediate to experience riders) This trip can be set up as a custom tour with 1 to 2 months prior notice. May also be planned as 5 days.
Meet in San Ignacio, Baja California Sur on the day prior to the ride days
Day 1 -This morning we'll all travel by Taxi van from San Ignacio to San Francisco de la Sierra. We meet the mules and guides, pack the burros, and drop into Santa Teresa canyon to camp. Dinner included.
Day 2 - An all day trip on foot or partly by mule to rock art sites Cueva La Pintada and Cueva de las Flechas, Piedra de Chuy and La Soledad…possibly others if timing allows. We'll leave our tents in place in the morning and return to the garden camp again in the evening. Dinner included.
Day 3 - Stopping to visit at Santa Teresa ranch and observe the making of goat cheese, we ride out of the canyon on the south trail, visiting Cueva La Palma (or Santa Teresa 1, on some maps) along the way. The old access-trail to the mesa tops is one of the most spectacular view-trails in the sierra. Cirios dance around us as we top the ridges. We'll make a camp near Rancho La Presa. Dinner included.
Day 4 - A bit of road riding in the morning and we'll have a chance to visit Cueva El Ratón as we ride past en route to a mid-day stop at Hostal Buenaventura. After lunch, tighten the cinches and in ten minutes we are on another of the most-beautiful-view trails for much of the afternoon. We'll stop to visit very good friends at a roadless ranch, San Antonio; and camp near the old grave-site of the papás of "Tacho" Arce, the long-time guide and friend of Harry Crosby. Lunch and dinner included.
Day 5 - A leisurely ride down switchback trails and the spine of a ridge dropping into the valley of Santa Martha tonight. We'll ride to a couple of ranches at mid-day for visits, and move on to camp at the base of the Cueva Palmarito trail. Dinner included.
Day 6 - It's about an hour and a half to trek up the trail to visit Cueva Palmarito at best-light timing, during mid morning. Another spectacular view place and one of the most popular visitation sites. Truly a world heritage treasure. In the afternoon at the trailhead again, a taxi van will load our gear and shuttle us back to San Ignacio. Adiós mulas y guías.
Return to Horseback Riding and Pack Trips main page